Crystalline Just Give Me A Reason "Emmi" &
Beagelee Donald Duck
13.11.2020 Løpetid starter.
19.11.2020 Progesteron test:
29.11.2020 Parret

Kombinasjonen mellom "Emmi" og Donald" er en gjenparring. Korona har begrenset mulighetene til å reise utenlands og det er begrenset tilgang til hannhunder som er testet for Lafora og som har de egenskaper vi ønsker å inkludere i vårt oppdrett. Tilbakemeldingene på det forrige kullet har vært veldig gode og derfor falt valget på Donald denne gangen også.
VIKTIG INFO: De som stod på venteliste til våre valpekull høsten 2020 og som dessverre ikke fikk valp den gangen, vil bli gitt mulighet til å få seg valp fra dette kullet om de fortsatt ønsker valp. Inntil valpene er født, kommet seg gjennom første kritiske periode og vi har fått oversikt over eventuelle ledige valper så vil vi IKKE sette opp flere på venteliste til dette kullet!
MLS - N/N
Factor 7 N/N
NCCD - N/N
IGS - N/N
PKDef - N/N
POAG - N/N

LAFORA - KOMMER
MLS - N/N
NCCD - NNCD/N
IGS - N/N
LAFORA - N/N
BEAGELEE DONALD DUCK
BEAGELEE ARCHANGEL
HARNETT WATERCOLORS IN THE RAIN
DARAGOJ CRYSTAL RAIN
DARAGOJ CHIT CHAT
BEAGELEE MADE IN AMERICA
SHAW`S SPIRIT OF THE CHASE
MANAHOUND SCENTER PIECE
BEAGELEE PENNY IN MY POCKET
BEAGELEE POCKETFUL OF SUNSHINE
DARAGOJ LAUDATUR
BEAGELEE KILLER QUEEN
BEAGELEE FOXY LADY
DARAGOJ CRYSTAL RAIN
BEAGELEE FINEST BLEND
CRYSTALLINE QUALITY JUST GIVE ME A REASON
WASKASOO DYNOMITE PHOENIX RISING
DARAGOJ HEAVEN ON EARTH
DARAGOJ CRYSTAL RAIN
DARAGOJ HEAVEN CAN WAIT
WASKASOO NAUGHTY GIRL LEXMARK
WASKASOO'S GONE WITH THE WIND
RALLYDON DAEDREAM
LANGRIGG LET THEM EAT CAKE
LANGRIGG LIKE IT WAS YESTERDAY
LANGRIGG RAIN HAIL OR SHINE
LANGRIGG SCRUMPTIOUS
LANGRIGG STRAWBERRY CUPCAKE
TRADEWINDS LIL`BIT OF FIRE
LANGRIGG SPARKLE IN SONG
AVIATRIX`S FANCY "CASSIE" & SWED PACK`S RIDDARE COMPOLIETI "RAMBO"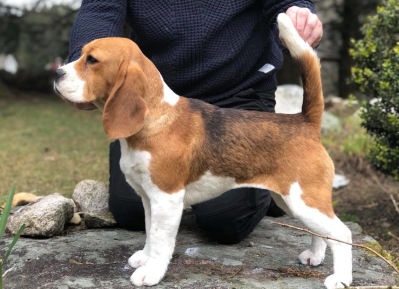 MLS - N/N
Factor 7 N/N
NCCD - N/N
IGS - N/N
PKDef - N/N
POAG - N/N
LAFORA N/N
MLS - N/N
Factor 7- BÆRER
NCCD - N/N
IGS - N/N
PKDef - N/N
POAG - N/N
LAFORA N/N
SWED PACK`S RIDDARE COMPOLIETI
CESI DELL` ETRURIA 2000
DARAGOJ BIG BROTHER
DARAGOJ FINAL CUT
SPRINGFIELD`S LITTLE SISTER
OAKENHEART MIRIEL
VICO DELL`ETRURIA
OAKENHEART AYANNA
GIRLS HAVE FUN FROM ELLY^S PACK
AYERS ROCK FROM ELLY`S PACK
BEAGELEE FINNISH SPIRIT
IZABELLE FROM ELLY`S PACK
ANNA BELLE FROM ELLY`S PACK
MANAHOUND TRAVELLING MAN
IZABELLE FROM ELLY`S PACK
AVIATRIX`S FANCY
TRAJAM THE TOURIST
WINDKIST A WALK IN THE PARK
JUST WRIGHT I`M A PEPPER TOO
BIJOUX A WALK IN THE CLOUDS
BAYOU OAKS PEPPERONI
DARAGOJ CRYSTAL RAIN
BEAGELEE FINEST BLEND
BEAGELEE FINEST MEMORY
RAESAY SPIRIT OF ADVENTURE
BEAGELEE FINNISH SPIRIT
CHELSEACOURT DELILAH
BEAGELEE FOXY LADY
DARAGOJ CRYSTAL RAIN
BEAGELEE FINEST BLEND
Valper fra vårt oppdrett er:

Registrert i Norsk Kennel Klub (Stamtavle)
Vaksinert ved 8 ukers alder
Id Merket (Microchip)
Veterinærbesiktiget
Regelmessig mark/orm behandlet

For spørsmål/informasjon eller ønske om å stå på venteliste er det bare å ta kontakt

Janne Sandbakken
Audnedalsveien 2989
4525 KONSMO
Norge
Tlf: +47 99451135
JanneSandbakken@hotmail.com